Today, I will continue to guide the you how to use Action in Photoshop, I really do not encourage to use this way. It is easy for us to be passive because we always want to use "available", this is difficult to improve your skills. But sometimes, it is very necessary to use, especially when we need process a whole set of photos that have to add text to each image is very hard and it does not sync the color of all the pictures. So, Action is the best and most time-consuming solution. Ok, let us begin!
What is Action?
Action in Photoshop is the process of recording the actions you have done with image A and save with * .atn (Photoshop action file). With images B, C, D,… you also perform the same operation as the image A, then you should use the action to save time. Action will automatically re-perform the actions that you make the photo A to apply to the photo B, C, D,… quickly and accurately.

How to use:
Open up Photoshop, go to the Windows Actions menu (shortcut is F9) to open the panel. On the panel, you click on the small black arrow and select load Actions… then you select the action file that you need to run. Press Load:
When loading is complete, a folder appears on the control panel, you click on the blue arrow so that it prints the actions contained within it.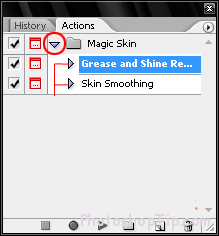 To run, you select an action and press the Play button. And follow the author's request.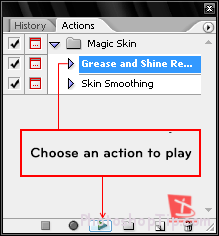 Okay, it is very simple, right? In this tutorial, I only talk about how to run Action. You can read more articles in PhotoshopTip to learn more about creating an Action as long as where to download special and wonderful actions.
Click here to download 108 sets of automatic blending action in Photoshop