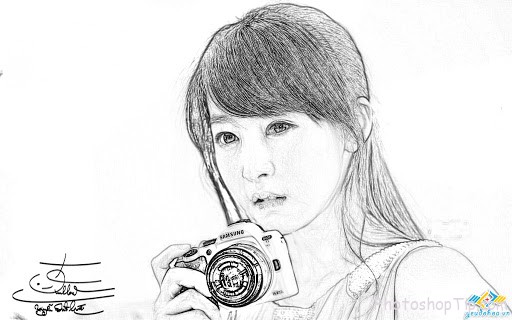 Nowadays, most of you have a smartphone to take digital picture with high quality. However, many people love the classic style and want to have a hand-drawn image.
In this article, I will guide you how to turn an image into a picture with pencil drawing style. With some simple Photoshop steps, you may create a unique photo with sharp brushstrokes that is drawn with a pencil. In this tutorial, I will show How to turn a real image into artworks in Photoshop.
Fisrt, let's see the original model and pattern after being "photoshopped"
Before starting my tutorial, you should pay attention to 2 small points: first, here are one of the simple tips in pts, I only intend to guide newcomers to pts. Therefore, I hope that top-class players do not say that I "teach fish to swim". Second, you should choose an image as sharp and fewer complexes as possible to have a beautiful "picture" (of course, you can use your experience to turn complex imagine into more simple one, I do not mention here). Well, we start, let's open up the picture.
FIRST, be duplicated pictures by pressing Ctrl + J, we will have the same background with layer1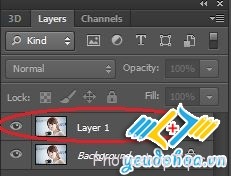 NEXT, we use Ctrl + Shift + U to turn this layer into black and white ((if you are not familiar with shortcut keys, you may implement it by clicking into Image à Adjustments –> Black and White –> OK or clicking into half black half white circle icon under Layer picker and clicking into Black and White and OK, here, I would like to say briefly short cuts steps. And results will be as follow: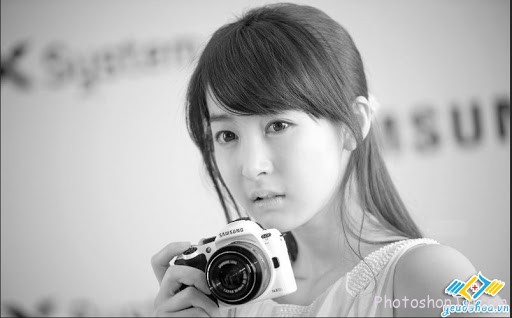 NEXT, we will duplicate Layer1 into Layer1 copy. After that, press Ctrl + I (Image -> Adjustments -> Invert) to turn Layer 1-copy into NEGATIVE one: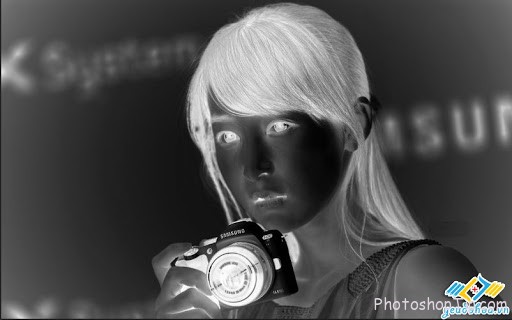 You should choose Blend Mode of Layer1 copy is Color Dodge, as shown below:
After implementing this step, the imagine will be nearly filled with white color, don't panic, you go to Filter and choose Other, in the items of Other, select Minimum like this picture: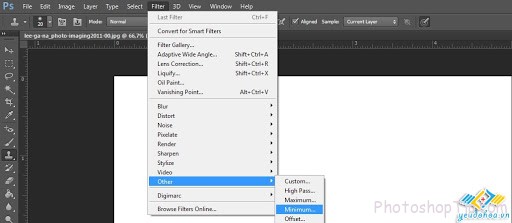 If you've never heard of this procedure, it is surely that you will be surprised because the painting begins to show up. In Minimun section, choose parameter with 1-5 size (it is depended on the picture that you adjust appropriately and satisfactorily). With this picture, I choose 2, after that click OK: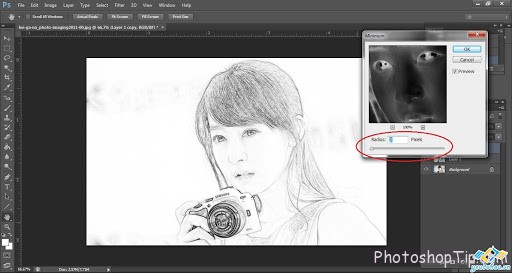 You click half white and half black circle icon as I said initially so that the contours will be sharper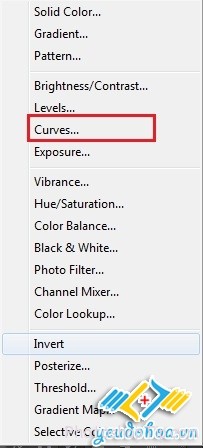 It is depended on each eye and imagines so that you adjust to create sharp contours without losing the balance of the contrast of the picture, here you select the parameters as follow: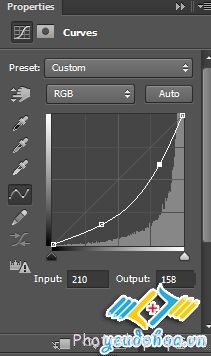 After changing Curves, use Ctrl + Shift + Alt + E to mix Layers when it has not locked. Next, we use Dodge Tool to brighten unnecessary shadows.

When using this tool, you should set the Highlight painting mode and depending on certain part that select appropriate Exposure (here, I set 50 when deleting the dark outside the character, use size 10-20 to lighten some parts of the face, and arm

THIS STEP REQUIRES YOUR EYES, THE PICTURE that you create a contrast of light and dark, I cannot show you how to make it because in each case the imagine will differ greatly.
Thus, we have nearly finished the picture, you should check carefully all details of the picture whether there are some unfavorable details or not. Here, I realized that in the neck of the girl has a part of camera that when turning into brushstroke that lost landscape, I will use the Clone Stamp tool to delete them.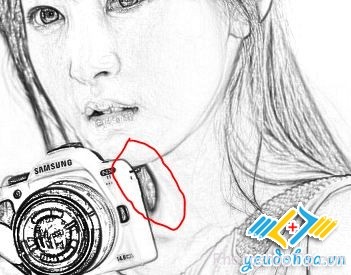 YOU MAY ALSO ADD OTHER DETAILS SUCH AS WORD, GRAPHIC ICONS TO MAKE IT MORE VIVID, HOWEVER, AS MY EXPERINCE, THE MORE SIMPLE IT IS, THE BETTER IT IS. HERE, I ONLY ADD MY SIGNATURE IN ACCORDANCE WITH MY EXPERIENCE.
Well, here are the most basic steps to make a picture with pencil drawing style from a real imagine. I would like to reiterate that here is some not really perfect experience that I have got. As I have emphasized, it is depended on EACH EYE when presenting tut. I believed that if you really passionate about and spend time researching, you will do it much better than me.
Thanks for reading !
Have a good job !