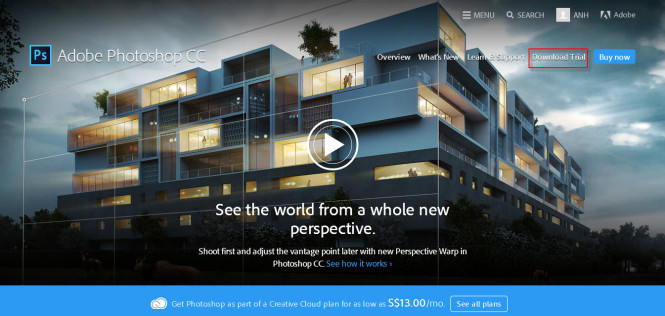 In this tutorial, I will talk about installation Photoshop CC. How to install photoshop cc. I will use Photoshop CC 2014 to make this tutorial. Phtoshop CC 2014 will be installed online. If you are a beginner Photoshop, you have to install this program. I think your can wonder which use Photoshop CC or Photoshop CS. Photoshop CS price is lower than Photoshop CC. Because Photoshop CC can help you to make the project online on the internet. You can read this last post difference between Photoshop CS6 and Photoshop CC.
Now, we're going to be the main subject in this tutorial, How to install Photoshop CC ? Photoshop CC can be installed online.
Step 1 : Download Photoshop CC in this link : Download Adobe Photoshop CC . You can use Photoshop CC trial version if want to try this progam. But you just use only this trial version 30 days. Click DOWNLOAD TRIAL.
Step 2 : Create Adobe ID. You should fill over 18 years old and check "I have read and agree to Terms of Use". Clicking SIGN UP
After final download. You will download Photoshop CC. If Download hasn't started? Please press Retry.
Step 3 : Updating Adobe application manager. This step spend about 5 minutes.
Step 4 : You will see "Creative Cloud" dialog box. 2014 Release of Creative Cloud. Clicking Continue
Step 5 : Clicking TRY Photsohop CC (2014)
Step 6 : Installing Photoshop CC (2014). This step is installing online. So that, you can't download Photoshop CC software to your computer. But You can install Photshop CC offline. This step spend about 30 minutes and depends on your network and speed computer. In the next post, I will show how to install Photoshop CC Oflline.
Step 7: Complete installation Photoshop CC 2014
Step 8 : Launch Photoshop CC 2014. Go to START > RUN > Photoshop type on the box
If you want to isntall Photoshop CS6, you can see How to install Photoshop CS6 trial version.
Thanks for your reading !