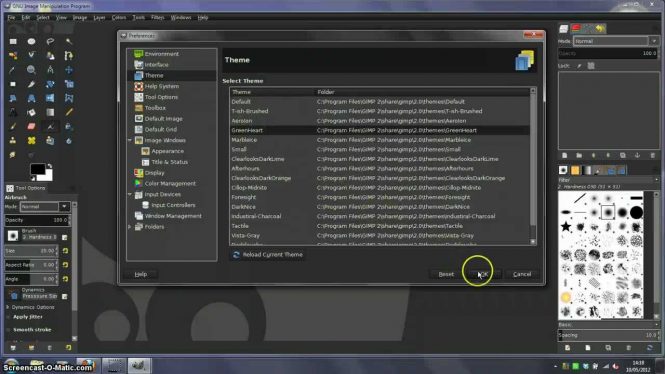 GIMP (GNU Image Manipulation Program) is a open-source image editor of the GNU project. The software supports most current operating systems such as Microsoft Windows, MacOS, and Linux. The latest version 2.8 was released on May 3rd, 2012 with many improvements in the interface and added many tools (layer groups, JPEG2000 support, PDF export, one window mode,…).
GIMP's interface (Prudencedark theme)
The main functions:
Color adjustment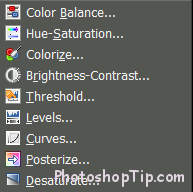 Selections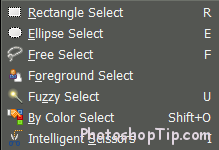 Transform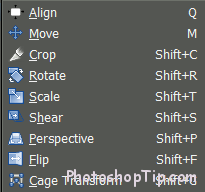 Photo-editing tools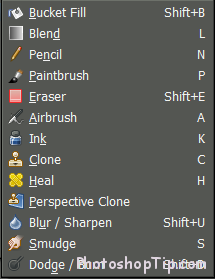 Layers, layer masks and channels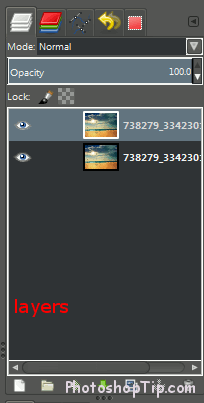 Automation, scripts and plug-ins: GIMP has about 150 effects and default filters including Drop Shadow, Blur, Motion Blur and Noise. The actions can be automated (similar to photoshop's action) with scripting languages. Hopefully, in the next update, GIMP will be added a visual action creation tool like Photoshop.
File formats
Import and export
BMP, JPEG, PNG, GIF and TIFF, Autodesk flick animations, Corel Paint Shop Pro images, and Adobe Photoshop documents. PostScript documents, X bitmap image and Zsoft PCX. GIMP also reads path information of SVG files and reads / writes ICO Windows icon files.
Only import
GIMP can import Adobe PDF documents and RAW images of many digital cameras, but can not save in this format. It is possible to use the UFRaw plug-in to fully integrate with RAW files, and it is also recognized faster than Adobe to update new camera models.
Only export
GIMP can output MNG layered image files (only Linux version) and HTML (as a table with colored cells), C source files (as an array) and ASCII Art (using plug-in), although it does not read these file types.
10 reasons to choose GIMP:
GIMP is free, you do not need to spend a penny to use it, whether you use it for the personal or commercial purpose.

GIMP is much lighter than Photoshop. Not sure if it works faster but it certainly takes up less disk space, this is really important when your computer has a modest hard drive.

GIMP is really fast and stable, it can be installed on the most hardware, such as Mac, Windows or even Unix.

GIMP can be customized to suit the purpose.

You can edit source code, build plugins and develop new features freely.

Gimp can process batch images, a very useful function for photographers.

Gimp can fully open, edit, save PSD files.

Not only free installation, use, upgrades are also free.

If you are familiar with the actions, shortcuts as well as the interface of photoshop, you can recreate it accordingly.

Copy GIMP portable to a USB stick and edit the image anywhere.
Download GIMP here: https://www.gimp.org/downloads/
Some other resource for GIMP:
Scripts and Plug-ins
http://registry.gimp.org/
http://steveczajka.posterous.com/essential-gimp-scripts-and-gimp-plugins
http://www.techzilo.com/download-free-gimp-plugins/
Brushs, textures
http://gimpbrush.com/
http://browse.deviantart.com/resources/applications/gimpbrushes/ (yêu cầu thành viên)
http://qbrushes.net/
http://www.colourlovers.com/
Other tutorials on Youtube channels:
http://www.youtube.com/user/jxtutorials
http://www.youtube.com/user/gimpknowhow
http://www.youtube.com/user/GIMPtricks
http://www.youtube.com/user/malgalin
http://www.youtube.com/user/steveczajka
(Bonus) Guide to changing themes for GIMP:
GIMP users seem to feel that the user interface is difficult to entry. I agree that at first it can seem odd compared to the paradigm used by other programs, but I feel it's just a small sticking point. Spend a little time with it, and you will quickly get used to it. Or you can start with my recommend theme by follow these steps:
Firstly, download the theme pack HERE.

Then unzip it and copy it to C:\Program Files\GIMP 2\share\gimp\2.0\themes

To sum up, open GIMP, go to edit -> preferences -> themes -> theme -> ok -> restart GIMP -> Done