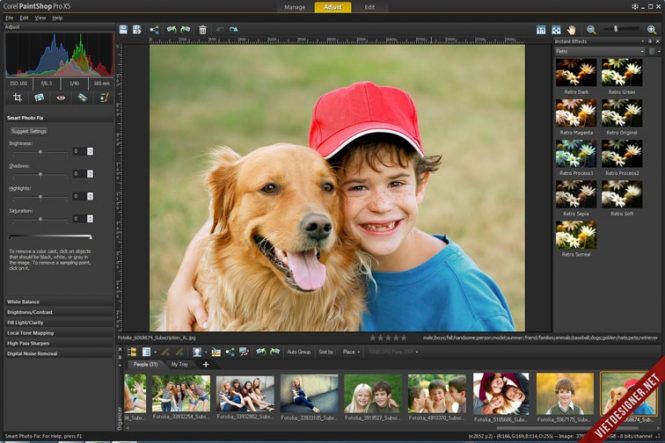 Corel PaintShop Pro X5 Ultimate is a powerful photo editing tool and the best choice to get high quality pictures. With many strong and new tool, advanced HDR technology, making a perfect photo is not difficult and wasting time anymore. This software can automatically identify human face to apply settings on. It also let you merge many photos into a graphic file for printing, website or video maker. Moreover, you can easily share your photo online by using connecting feature with social network. 
Main features:
View, organize, and edit easily:
The program is designed simply to help you manage easily, edit and adjust to get the picture eye-catching.
Integrate many tools:
Corel PaintShop Pro X5 Ultimate incorporates many powerful features, including the Nik Innovator Filter, the Blurb Photo Collection, and the high-quality imagery from Fotolia.
Create stunning effects:
Sophisticating effects, layer editing, Artistic Brushes, and over 75 new features have been added to Corel PaintShop Pro X4! You can combine multiple photos with different exposures to create stunning images with new HDR modules.
Make images faster:
PaintShop Pro X5 is the fastest version. There are more effects in real time, and that allows you to see results while processing images.
System Requirements:
Processor: 1.5GHz (2GHz or faster)

RAM: 1 GB (2 GB or higher)

Spare hard disk drive: 1 GB (2 GB or higher)

Display 1024 x 768 16-bit

CD-ROM drive is compatible with Windows for installation

Connect to the Internet when sending online pictures and updating downloaded programs
Support users to format import:
AI, BMP, CAL, CALS, CGM, CLP, CMX, CT, CUR, CUT, DCX, DIB, DRW, EMF, EPS, FPX, GIF, HDP, HGL, HPG, IFF, IMG, J2C, J2K, JIF JP2 JPC JPX MAC MPO MRW MSP PBM PCD PCT PCX PDF PGL PGM PIC PICTURE PNG PNS PPM PSD PSD RAS, RAW, RIF, RLE, SCT, SVG, SVG, TGA, TIF, UFO, WBM, WBMP, WMP, WEBP, WMF, WPG

Support RAW files in over 300 camera that have file extensions such as 3FR, ARW, CR2, CRW, DCR, DNG, ERF, K25, KDC, MEF, MOS, NEF, NRW, ORF, PEF, RAF, RW2, SR2, SRF, X3F

Support users to format input videos: MPEG-1, WMV (Windows Media Video), MOV (QuickTime requirement) and AVI (JPEG animation)
Support users to format output:
BMP, CAL, CALS, CLP, CUT, DCX, DIB, EMF, EPS, AI, PS, FPX, GIF, HDP, WDP, IFF, IMG, JP2, J2C, J2K, JPC, JPX, JPG, JIF, JPE Jpeg, mac, msm, psp, pcx, psp, psp, psd, jpeg, psp, TIFF, WBMP, WBM, WEBP, WMF.
Download link:
Trial version: http://www.corel.com/corel/category.jsp?cat=cat4120151&rootCat=cat3580079
Upgrade version: http://www.corel.com/akdlm/6763/downloads/PaintShopPro/X5/patches/PSPX5_SP1.exe