Easy Photo Effects is an image editing software developed by Jacco Mintjes, its main feature is to create beautiful effects on your images. The program has a simple interface and easy to use. Importing images is simple, you can import images from your computer as well as external storage devices, or with the drag and drop feature directly into the interface.
Easy Photo Effects not only allows to add effects but also provides options to adjust the size and borders of edited photos. With one click you can make your photos look great as edited from Photoshop.
Easy Photo Effects works on Windows XP, Windows Vista and Windows 7 with a minimum resolution of 1024×768.
Easy Photo Effects is free to use. DOWNLOAD IT HERE!
Manual instruction :
Step 1: Open Easy Photo Effects.
Step 2: Click Open Image to select the image to edit.
Step 3: Choose some of the available effects to highlight the photo. To change the effect, Easy Photo Effects supports the Undo tool so that you easily return to the previous steps.
Here are some of the effects that apply to the image that PhotoshopTip often choose to use for your reference.
* Embossed effect
* Black & White effect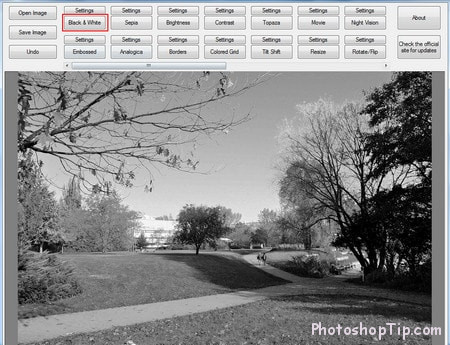 * Analogica effect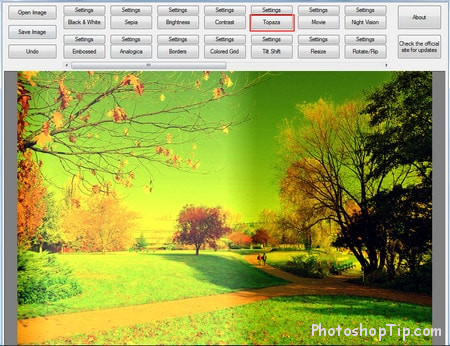 And many the other effects, you can freely explore it by yourself!