I will show How to Create a Visual Video by Timeline in Photoshop CC in this tutorial. Timeline function has been already available in previous versions of Photoshop, however, in the version of Photoshop CC has added many new enhancements, which help the edit and creation of video effects become extremely simple.
The beta of Photoshop CC was launched for a long time, apart from the basic applications that you would normally see, the prominent feature in this CC version is Timeline function when editing Video. ( Timeline  in Window menu Photoshop CC )
How to use Timeline in Photoshop CC ?
Timeline panel appears regularly below the main interface of Photoshop CC. To create a new video, you click Create Video Timeline.
Next, you click footage icon next to Layer 0, click Add Media and select video files that you want to handle from file explorer window.
At this point, you will see video files completely included in Video Group 1 (both in the Timeline panel and the Layer panel). Basically, the arrangement of the video group so that they overlap in the Timeline panel also has classification as in the Layers panel, it means that the above group will be located on top of the frame of under group.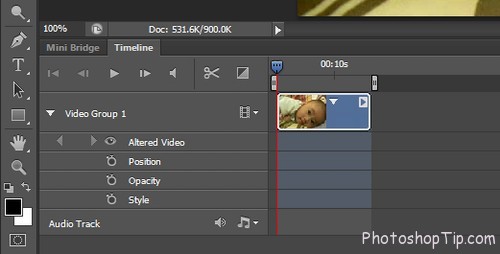 You can insert text, graphics, and effects… to video by creating a new video group (click footage icon then select New Video Group), choose objects that you want to add from the toolbar and move the objects to the appropriate location on the frame.
For example, to insert text to video, you create a new video group, named Video Group 2. Next, you select the Type Tool (T), click on the frame and type arbitrary content, then select the Move Tool (V), and move the text to the location that you want to insert.

To create effects such as rotating text, blurring the words, creating an outline… you use anchor points corresponding to each specific function. For example, to rotate text, you perform as follows: Click the arrow icon located in front of Video Group 2, then click the stopwatch icon in front of Transform option, a yellow anchor point will appear symbolizing first state (there is nothing happens).
Next, you drag the progress bar to the location where you want to end word rotation, click anchor point icon in front of Transform option to make ends, then place your mouse pointer at the layer contain letters, press Ctrl + F, then rotating the text as arbitrary angle. So that's done, press Enter. You can look over the result by dragging progress bar to the left or right.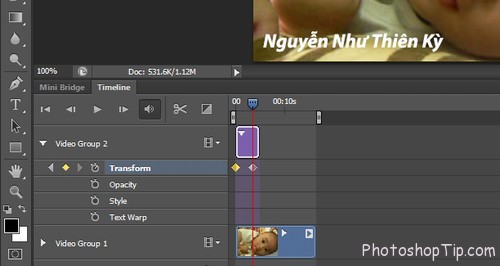 If you want to cut down length of video, you will only need to move the mouse pointer to the end point of video from Timeline panel, when the double arrow icon appears, hold down and drag the mouse from right to left until you reach the desired length.
To create visual effects for video, you select the corresponding video from the Layer panel, choose affections and setting arbitrary parameters in the Filter menu. The video effects are similar to the effects that you've applied to the image.
Once finished editing the video, click the list icon in the right corner of the Timeline panel, select Render Video.
In the Render Video panel that has just appeared, you name and select folder to archive, set the parameters related to size, frame rate, format… After that, click Render.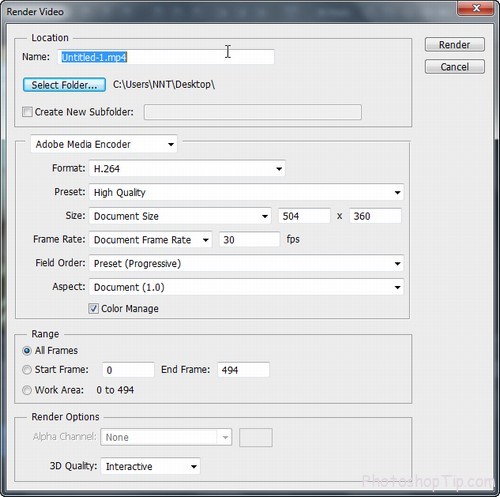 Applying these skills, you can absolutely create a photo slideshow video easily by Photoshop CC. First, you create Video Group 1, alternatively drag each image file that you want to appear in slideshow into the frame next to Video Group 1.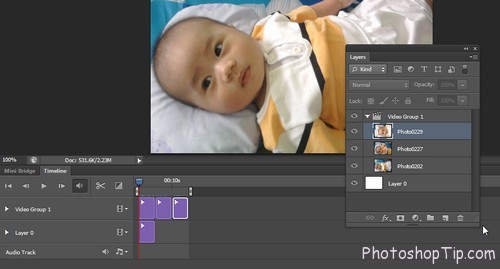 To create transition effects among images, you click the divided square icon next to icon of scissors, then alternately drag transitions down between two frames.
Additionally, you can also insert background music by clicking the sound icon located next to Audio Track, select Add Audio, and browse to audio files that you want to insert, and click OK. So that's done, you just only need to redo Render Video step to save video file that You have just made.
Thanks for reading on Photoshoptip.com !