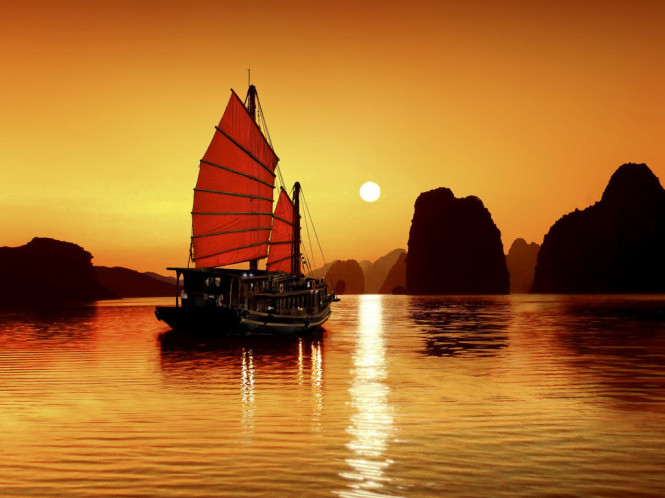 The local legend of Ha Long bay in VietNam and Ha Long bay pictures in Viet Nam. Ha Long bay is the small bay in west of Gulf of Tonkin, Quang Ninh province, North Viet Nam. In Vietnamese language, HaLong bay is that mean descending dragon bay, It's a popular travel destination in VietNam. Ha Long bay have a local legend. When VietNam country is establised, VietNam had to fight against invaders. The Gods sent "Dragon Mother" to VietNam, and "Dragon Mother" carried "her children" to help Vietnam to fight against invaders. When the Dragon went to the earth, boat's invader was being to VietNam by the sea. The Dragon spitted fire to destroy boats. After winning, The Dargon didn't go back the Gods, because this place is very beautiful. So that, this place is called Ha Long. Ha mean descending , Long mean Dragon. Hạ Long Bay is a UNESCO World Heritage Site
Now, We'll see some pictures of HaLong bay. Do you want to use Halong bay wallpapers ?
Location and map of Hạ Long bay
The Kissing Rocks or Gamefowl Island
Dawn of Ha Long bay
Ha Long in the morning

Boats in Halong Bay
Cave of Ha Long bay
Halong Bay cave dining
Ha Long bay swimming

Halong bay sunset wallpaper

Will you go to Hạ Long bay ?